Victoria Quirante
2017-11-06
React Alicante 2017 - Organizers' recap
A few weeks ago took place the first edition of React Alicante, the international conference focused on React and React Native hosted in Alicante, Spain. Some attendees have already posted their take on the event, and we really want to thank them for doing so. Their feedback, as the one provided by others via email, Twitter and direct comments is extremely valuable for us.
In this article we want to expose our view of this first edition as organizers, from our initial approach and expectations to our assessment and feeling of the aftermath.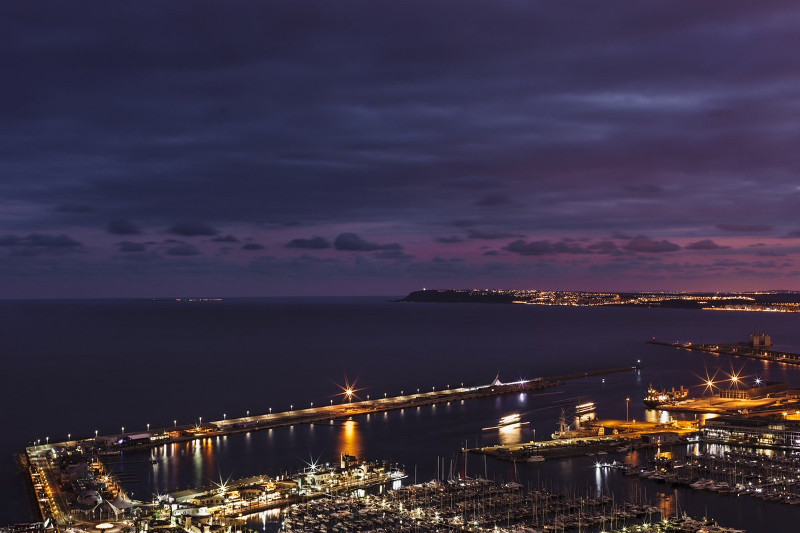 (photo credits: Artem Sapegin).
Our goals for this first edition
When you make the decision of jumping into organizing an international event like React Alicante, it is important to take a little time to set up your goals and decide which are going to be your priorities. The personality of your conference is likely going to be determined by the decisions you make at this point, and there are as many different valid approaches as people out there.
Being developers ourselves, and also having broad experience attending conferences -both as speakers and attendees- we had a pretty clear idea of what things we wanted to focus on. Mainly these two:
Gather a great combination of talks and speakers.
Make our best to set up a truly inspiring and fun international atmosphere.
We are very happy with the results regarding these two goals. Everything worked out even better than what we could have expected for the first year. We think that a few things played out in our favor, and we want to share those in case they can help some other organizers out there.
Talks and speakers
Gathering great talks and speakers does not necessarily mean gathering only "already-famous" speakers. Actually, in our experience, a combination of well known speakers and new voices usually turns out better.
Speakers that are not-so-famous usually put all their effort -and more- in preparing their talk and try their best to make a great performance. And that is something that pays off. It does not matter how expert you are in speaking at conferences. When a talk is well prepared and the speaker has put effort on it, that is something that attendees can definitely notice and appreciate.
Of course we were very lucky and feel really grateful for being able to count as well with many highly experienced speakers. That is not easy to achieve in a first edition, and we can only say thanks to all of them for joining us.
Level of experience aside, the quality of the talks turned out even higher than what we expected -and our expectations were high-, so big thanks to all the speakers for the great work they did.
From the organization point of view, focusing on the speakers first turned out great. Once you have a good line-up, everything else becomes easy, or at least much easier.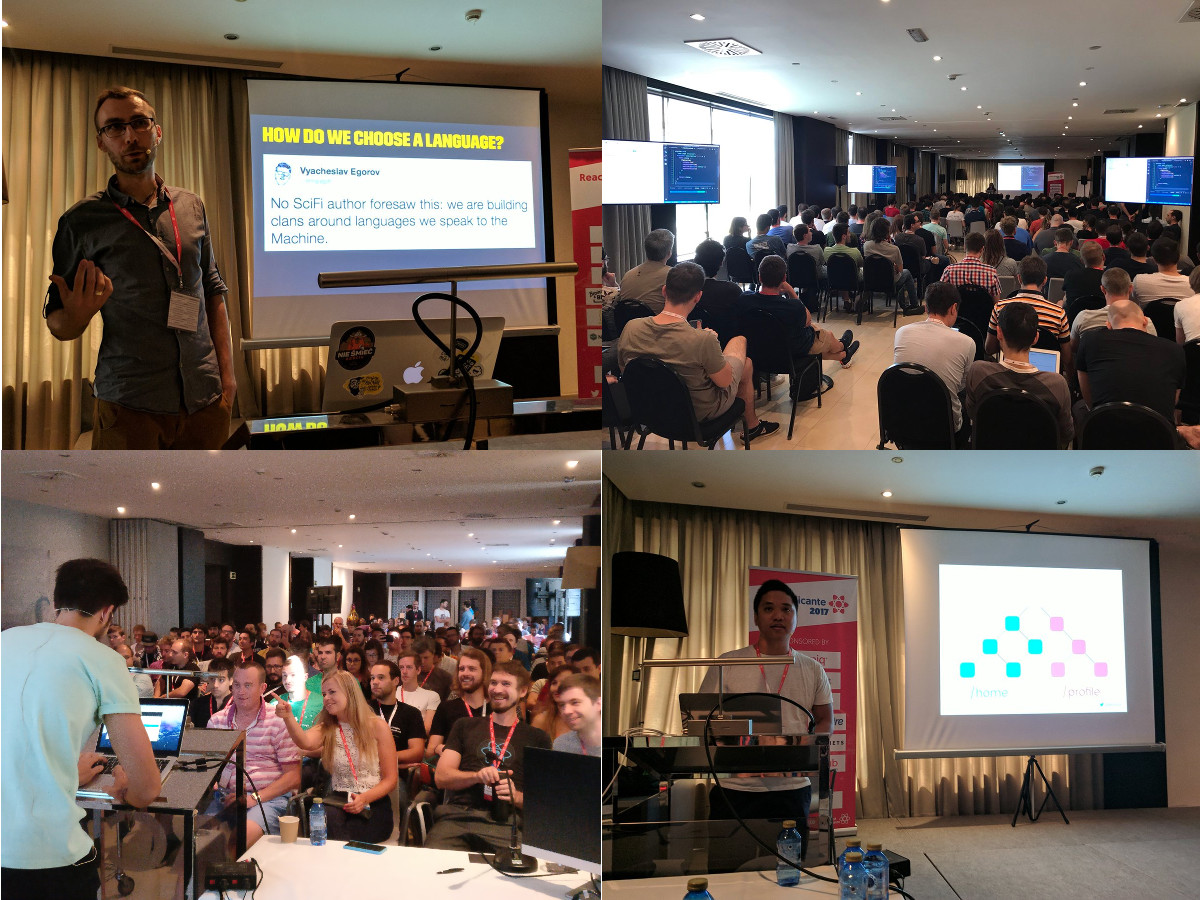 Atmosphere
When looking at our second goal, we think that a few things helped building a very enjoyable atmosphere:
People from many different places. In an audience of 250 attendees, we had representation from 25 different countries, including people travelling from USA, India, Russia... This also surpassed by far our expectations for the first edition, and we can only thank you all for attending and being so cool.
A medium size city. Attending to conferences in big cities is great. But attending to conferences in not-so-big cities has some advantages too. One of them is that it is somehow easier to share more time together. In Alicante, we could walk from the hotel to the center of the city in a few minutes, go for dinner and drinks together and even stumble upon different groups of people from the conference just by wandering around the nightlife area. If you are someone that likes to meet new people when attending a conference, this kind of things make that easier.
A single-track schedule. Similar to the previous point, although having a multi-track conference has of course some advantages (more options, etc.), a single track helps smoothing out the conversation. Everyone is attending and listening to the same talks. And later they can share their thoughts being sure that everyone has been there. It may sound something small, but when you only have a few hours to share things together, actually attending to the same talks helps.
The proximity with the speakers. Sometimes, the speakers tend to create a closed group and don't mix up with the attendees. In React Alicante the speakers did not put any distance with the attendees, and that is something that really helps too. Thank you to all of them for that as well!
Slack. A few days before the event we created a Slack group for the conference. This allowed the attendees and speakers to start the conversation already before arriving in Alicante, and that was great. We have to thank Amy Crimmens, organizer of React London, for this. It was her recommendation and we are very happy to have followed it. Thanks, Amy!
All this is just an attempt of analyzing which things worked out well for us. Of course, each conference is different and there are many ways of making things work. At the end of the day, you basically need a bit of luck... and nice people attending the conference.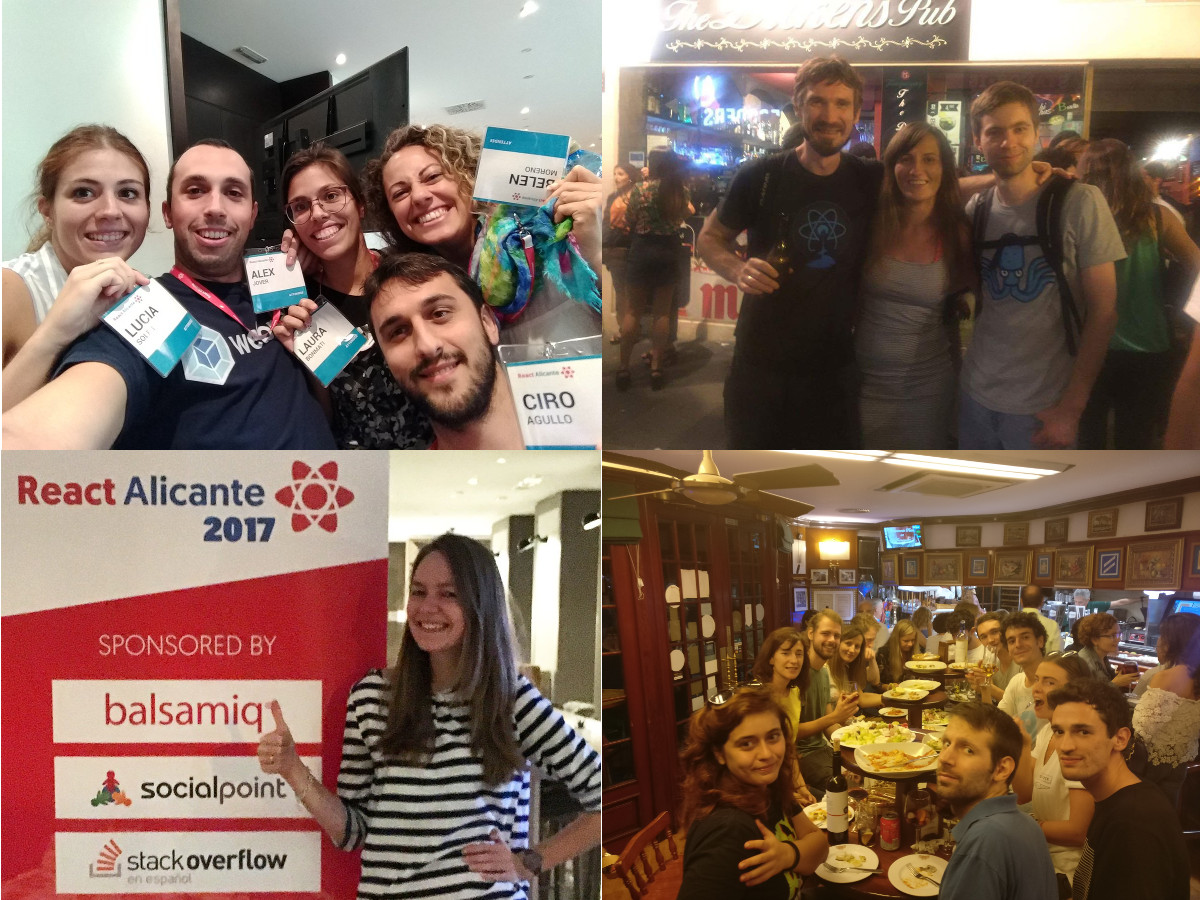 Looking back... and forward
On a personal level, the experience has been completely positive. We met our goals, we didn't die in the attempt, and we were able to pay the bills -which is probably the trickiest part in a first edition-. We need of course to thank again our sponsors for this. Sponsoring a new event is both bold and generous. Without companies willing to do so, it wouldn't be possible to bring new events to life.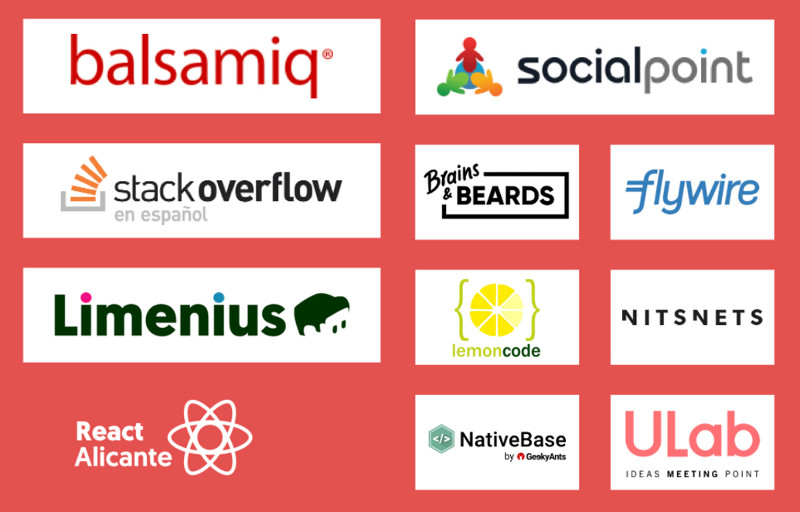 Regarding the overall workload, it is not as much as one can imagine -you have to like to get involved in this kind of messes, though.
And the people response, which is what you value most, has been excellent. That pays for every bit of effort put on this.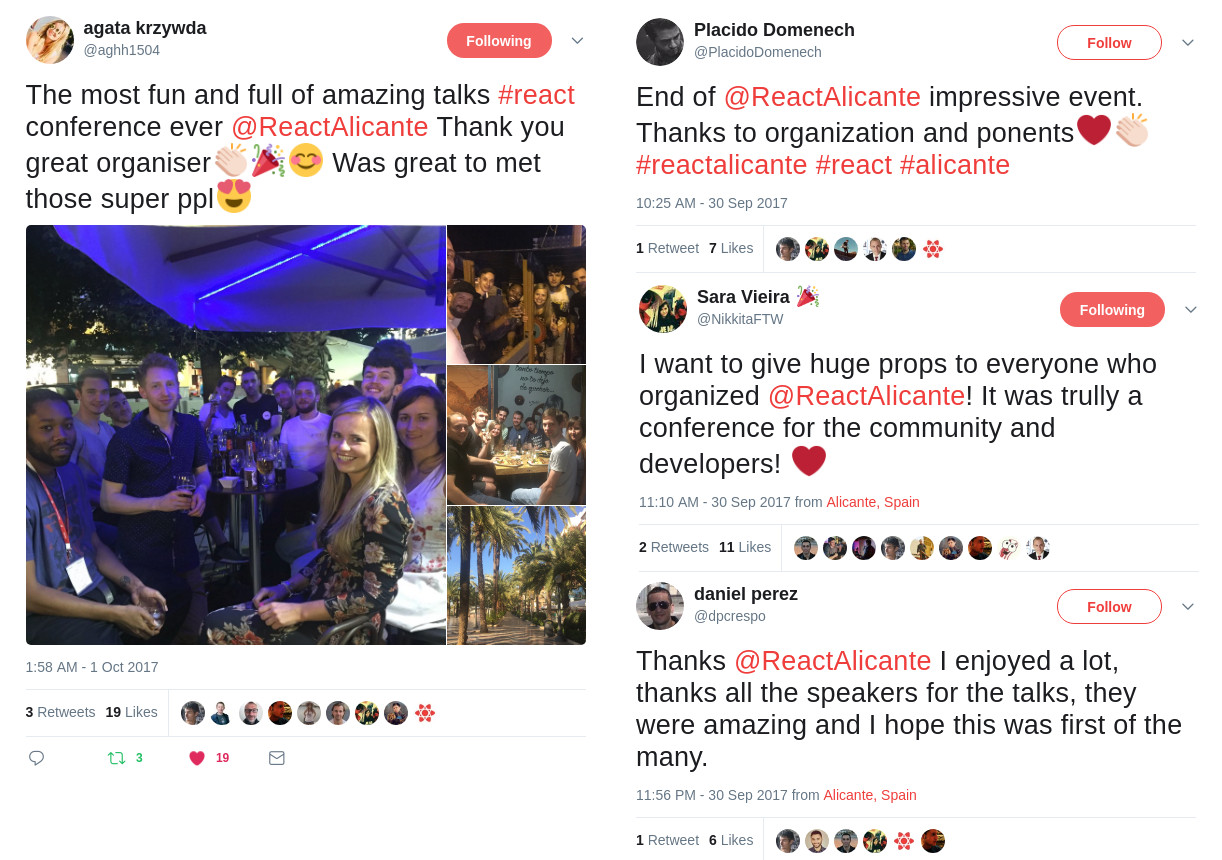 Of course, we know that not everything was perfect. Although nobody gave us negative feedback, we know that there are things that we can do better... and we will. :)
We will have React Alicante 2018. The goal for this edition will be to try to keep all the good and improve a few things (let's not elaborate on this yet and leave some room for surprises). ;) Just give us a little time to fully gather all our energy again after the first edition, and we will get back to work. Talk to you soon.
In the meantime, you can find all the slides, videos and repos from React Alicante 2017 here. Enjoy!